1.Simple to commoditize
Agroforestry products can be commoditized simply by blending or
replacing the raw materials in existing products with those from Agroforestry.
2.Direct, proactive CSR
Using raw materials from Agroforestry in existing products enables companies to tie their core businesses directly into their CSR activities. Because a company's contribution to the environment increases as it sells more product, the pursuit of profitability actually leads to an even more proactive CSR effort.
3. Quantifying environmental contributions
Today, Agroforestry in Tomé-açu is said to cover as much as 7,000ha, and it has been calculated that the greenhouse gases locked up by the taller tree species are as much as 5,3185 tons annually (FRUTA FRUTA research). The amount of CO2 captured per product can thus be determined by dividing this number by the annual volume of raw materials produced.


here are a vast number of certifications related to the ecology and ethical business around the world, with new ones created every day. At Fruta Fruta, however, we believe that many of these share the principles of a green economy, and our hope is that out of these, a common "Green Economy Certification" will be brought forth. We also believe that companies can benefit from displaying the Green Economy Certified mark on products that use raw materials from Agroforestry.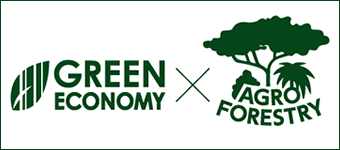 *The above logos are our proprietary designs, intended for use temporarily until a third party Green Economy certification system is developed.
---